OPEN CALLS

THE ROAD TO ELEFSINA

A nine-day intensive artist residency on the Mysteries of art in energy vibrating Athens & Elefsina European Capital of Culture 2023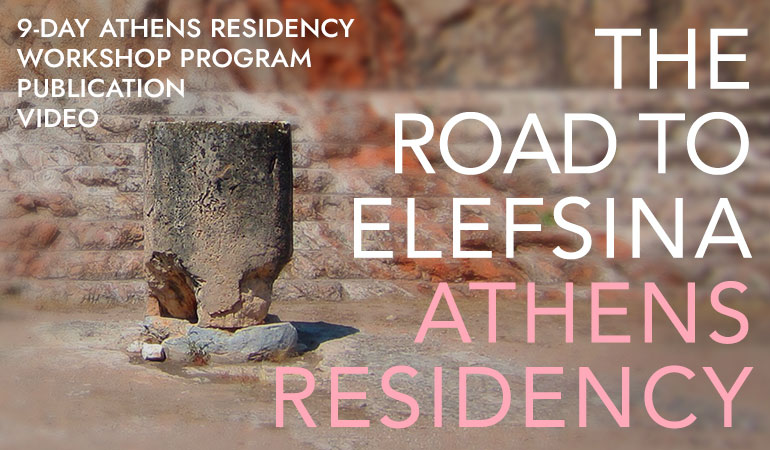 The Athens residency includes intensive workshops in storytelling, performance and video, and promotes the artists' work through presentation, catalogue and participation in video festivals. The physical residency follows an online introduction to the significance of Greek heritage for contemporary artists.


Applications can be submitted until 30 September 2023


The Road To Elefsina aims at expanding the artists' spectrum of cultural experiences, and offer insight into the beginnings of civilization. The learning program enhances artists' understanding of how art and poetry may have a soothing effect on human agonies.

The residency, workshop and presentation project addresses visual artists, designers, crafters, jewelry makers, ceramists, performers, photographers, filmmakers and art theorists who wish to dive into the Greek myth of death and resurrection. The myth of Persephone also highlights the mother and daughter bonding, and the challenges of growing up.


DETAILS:
9 days/8 nights accommodation in downtown Athens
Guided tours and open air workshops in Athens and Elefsina
Workshops & e-workshop on the history and mythology of Elefsina + narrative and storytelling + concept and storyboard + video art and photography
Concept, idea and design of objects; performance practice; video script and shooting
Promotion & publication of the participants' work in SMCK Magazine For Independent Artists
Video presentation for SMCK On Reel 2024 at Schmuck - Jewelry Week of Munich 2024
Jewelry and small objects online sales
The residency project will be documented on FaveLAB Athens and KLIMT02 website.

E_RESIDENCY / THE ROAD TO ELFSINA

4-day e-Residency with online workshops + Athens virtual visit + publication + video screening






The e-residency project addresses jewelry makers, visual artists, designers, photographers, crafters, ceramists, performers, filmmakers, art theorists who wish to dive into the greek myth of death and resurrection.

Application Deadline: 8 October 2023


The Road to Elefsina e-Residency focuses on the myth of a girl becoming a woman and the art representations connected to it, as well as on the social background, history and concepts of the Eleusinian mysteries.
Participants of the e-Residency are challenged to explore the myth of Persephone, her sacred marriage and death, and give their own interpretation of eternal flow.

The program offers insight into the vast history of Greek civilization, makes it easy and approachable, and adds meaning to the e-residents' work and art understanding.

The e-Residency program also teaches participants how to make their presentations meaningful, surprising and irresistible through words, plot, performance, objects and video.

ATHENS STUDIO OFFERS

The studio offers include accommodation and workspace for individual art projects, research and inspiration in the rich and vibrant cultural environment of the Greek capital.

Contact us anytime for availability! Applicants must be at least 30 years old.
DETAILS:
Minimum stay is 14 days - maximum stay three months, depending on availability.
Studios (sizes between 52 and 102m2) in central Athens: Exarcheia, Kypseli, Kolonos
The studios include living and working space - more details >>> here
Studios for artists with heavy duty work - noise, dirt - are also available
Contact us for fees and more information.

Your studio request should include your desired dates plus a short overview over your work (links, photos, website).