OPEN CALLS

E_RESIDENCY / THE ROAD TO ELFSINA

2-day e-Residency with online workshops + Athens virtual visit + publication + video screening






The e-residency project addresses jewelry makers, visual artists, designers, photographers, crafters, ceramists, performers, filmmakers, art theorists who wish to dive into the greek myth of death and resurrection.

Application Deadline: 20 December 2023


The Road to Elefsina e-Residency focuses on the myth of a girl becoming a woman and the art representations connected to it, as well as on the social background, history and concepts of the Eleusinian mysteries.
Participants of the e-Residency are challenged to explore the myth of Persephone, her sacred marriage and death, and give their own interpretation of eternal flow.

The program offers insight into the vast history of Greek civilization, makes it easy and approachable, and adds meaning to the e-residents' work and art understanding.

The e-Residency program also teaches participants how to make their presentations meaningful, surprising and irresistible through words, plot, performance, objects and video.

THE ROAD TO ELEFSINA

A nine-day intensive artist residency on the Mysteries of art in energy vibrating Athens & Elefsina European Capital of Culture 2023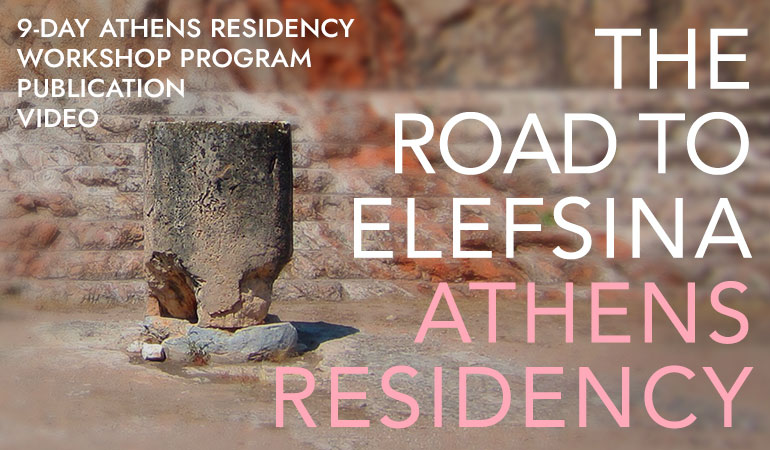 The Athens residency includes intensive workshops in storytelling, performance and video, and promotes the artists' work through presentation, catalogue and participation in video festivals. The physical residency follows an online introduction to the significance of Greek heritage for contemporary artists.


Application deadline: 22 December 2023
Residency date: Sunday 28 January – Monday 5 February 2024


The Road To Elefsina aims at expanding the artists' spectrum of cultural experiences, and offer insight into the beginnings of civilization. The learning program enhances artists' understanding of how art and poetry may have a soothing effect on human agonies.

The residency, workshop and presentation project addresses visual artists, designers, crafters, jewelry makers, ceramists, performers, photographers, filmmakers and art theorists who wish to dive into the Greek myth of death and resurrection. The myth of Persephone also highlights the mother and daughter bonding, and the challenges of growing up.

ONE PLUS ONE

14-day Residency & exhibition project for two artists in Athens / Greece






Application deadline: 29 December 2023
Residency dates: Spring - Autumn 2024 (see below)


ONE + ONE is a residency and exhibition project for international artists who want to explore Athens' rich cultural life, traditions and opportunities, and present their work in a local art venue.

ONE + ONE provides shared or single accommodation and working space in central Athens for two artists who wish to share ideas and experiences, and present new work in a special duo show at an Athens venue. The artists exhibit their work in a curated two-day exhibition or artist talks in downtown Athens at the end of the two-week residency period.

The ONE + ONE residency program also includes a customized introduction into ancient and contemporary Greek culture (an online introductory course + two guided visits at Unesco sites, museums and art venues), individual networking advice, tips on Athens secret addresses, as well as curatorial advice for the realization of the exhibition.

The exhibition includes promotional, press and social media support, plus e-invitation + press release (GR/EN), and a website / print-digital magazine documentation in SMCK Magazine.

You can find a documentation of past ONE + ONE residents in our EXHIBITIONS section.


The ONE + ONE residency includes:

• Online introduction before arrival: ONE + ONE and contemporary Greek culture
• Accommodation options: A. shared studio apartment with two separate bedrooms Athens (100m2) / B. two single artist studio apartments (50m2 each) in central Athens
• A curated two-day exhibition in downtown Athens
• Support and advice for the exhibition setup
• A guided city tour plus visit at Unesco sites, museums and art venues
• Individual networking, promotion, social media support + press release
• E-invitation + website and online/print magazine documentation


Disciplines: Artists who work in the field of sculpture, painting, installation, photography, performance, textile art, comics, design, ceramics, jewelry art, as well as designers, crafters, art theorists, art historians, curators are encouraged to apply.

Application requirements: We accept applications from individual artists and from already existing artist duos. Artists must be at least 30 years of age.

Residency duration: 14 days (13 nights). The residency period begins on Monday and ends on Sunday.

Exhibition/presentation:  2 days (during the second week of the residency)

Price:  730 € / paid by the artist. The Price does not include travel fares, museums' and archaeological sites entry tickets, meals, artist material or tools, print matter for the show.

Application: Email your application with cover letter introducing yourself and stating your incentive to participate in the ONE + ONE residency project. Include your bio/cv and website/blog or instagram or 6-8 images of your work.

Optional residency dates for 2024:

25 March – 7 April 2024
15 – 28 April 2024
13 – 26 May 2024
3 – 16 June 2024
26 August – 8 September 2024
16 – 29 September 2024
30 September – 13 October 2024


Application deadline: 29 December 2023


ATHENS STUDIO OFFERS

The studio offers include accommodation and workspace for individual art projects, research and inspiration in the rich and vibrant cultural environment of the Greek capital.

Contact us anytime for availability! Applicants must be at least 30 years old.
DETAILS:
Minimum stay is 14 days - maximum stay three months, depending on availability.
Studios (sizes between 52 and 102m2) in central Athens: Exarcheia, Kypseli, Kolonos
The studios include living and working space - more details >>> here
Studios for artists with heavy duty work - noise, dirt - are also available
Contact us for fees and more information.

Your studio request should include your desired dates plus a short overview over your work (links, photos, website).