ONE PLUS ONE
SILKE STORJOHANN +
KATHRINE NIELSEN //

"THROUGH ATHENS"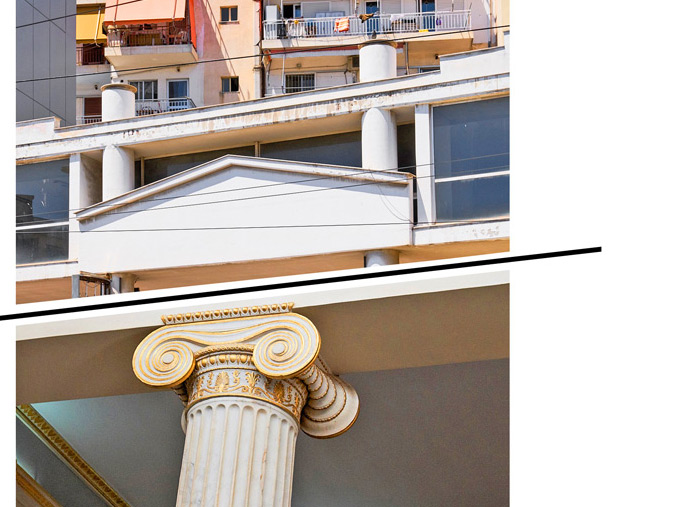 Photo: Silke Storjohann / K.U. Nielsen
INTERVENTION/PHOTOGRAPHY
18 + 19 MAY 2019

Silke Storjohann (Germany) and Kathrine Nielsen (Denmark) are photographers based in Hamburg/Germany. They have already collaborated in various projects in the past.
Silke Storjohann's photography focuses on places in flux, shaped and altered by people. Her photographs of light, graffiti, city life and nature show transience and glamour, but also highlight aspects of vulnerability and decay that determine a specific place (
>>> homepage
).
Kathrine Nielsen's practice is rooted in documentary photography. Her latest work examines people's concepts and expectations of life contrasted by the social and political reality they live in (
>>> homepage
).
Their ONE+ONE residency project
"Through Athens"
reflects the rich historical and social stratification of the city and the early 20th century flaneur movement which turned the own vicinity into an object of anthropological exploration.
"Through Athens"
presents photographs of the duo's journey through Greece's capital placed in unconventional places: in the streets, cafés, stores and empty lots of Exarcheia, the neighborhood of the FaveLAB headquarters.
Storjohann and Nielsen will guide the public through the controversial quarter of Athens. They will explore the distinctive visual language of Exarcheia with the ambition to provoke the visitors' curiosity.
You can find a documentation of their journey through Athens here:
www.ka-si.eu
.
ARTIST WALK:
Saturday 19 May - 19.00 (walk starts at 19.15 !)
Sunday 20 May - 12.00 (walk starts at 12.15 !)
MEETING POINT:
HBBH Coffee Bar, Stournari 2, Athens (Exarchia)
>>> Find it
Download the
e-invitation (PDF)
Documentation: Christoph Ziegler