ONE PLUS ONE
FREDDIE DARKE +
LEONIDAS PANOURGIAS //

"UNSUNG ODYSSEYS / LETTERS AND LINES"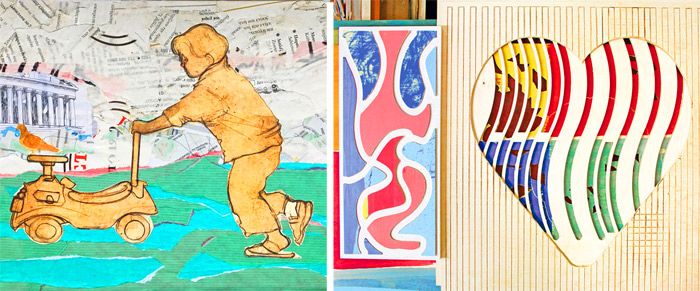 Photo: F. Darke / L. Panourgias
EXHIBITION: 18 - 20 APRIL 2019

Freddie Darke's project
"Unsung Odysseys"
is inspired by his personal experiences in Athens. The series of figurative drawings and collages the London-based artist presents during his ONE+ONE residency are a result of an ongoing inner dialogue.
"Visually referencing the black and amber-coloured vase paintings of Greek antiquity, while at the same time adopting the heavily reproduced nature of tourist merchandise, I have created a series of characters to use on canvas as a means to explore and express current thoughts and concerns, both social and artistic", Darke says.
Themes and ideas, including classic mythology in parallel to the immediate present-day emerge on his wanderings through the city. One of his main concerns is our rapidly lost personal narratives and, given the ever-present weight of history and mythology in Athens, a big question is: what fragments of these narratives might be, if any, remembered 3.000 years from now?
Leonidas Panourgias' engraving shop in the very heart of Athens reflects the creative co-existence of practical work and playful invention. Fascinated by the concept of the Bauhaus, Panourgias runs his workshop according to the idea that art and crafts are inextricably connected to a practical function in society.
His workshop is dominated by a large electronic engraving machine wich runs all day and serves the "business" as well as his experiments with materials, shapes, colors and lines.
"Letters and lines are what you see in this space; they are the signs I follow on my way to understand what art is about", Panourgias says. Hand colored engravings enter a dialogue with drafts, sketches, icons, stamps, signs, carved furniture - the workshop is creative jungle, a productive Paradise Lost!
Homepage - Freddie Darke
Homepage - Leonidas Panourgias
OPENING:
Thursday, 18 April 2019, 19.00 to 21.00
EXHIBITION:
Friday 19 April from 11.00 to 19.00
Saturday 20 April from 10.00 to 14.00
PLACE:
Π-Artworks, Lekka 30, 10562 Athens (Syntagma)
>>> Find it
Download the
e-invitation (PDF)
Documentation: Christoph Ziegler