ONE ARTIST A WEEK
STELLA JAE RICCI / ECHOES OF CHANGE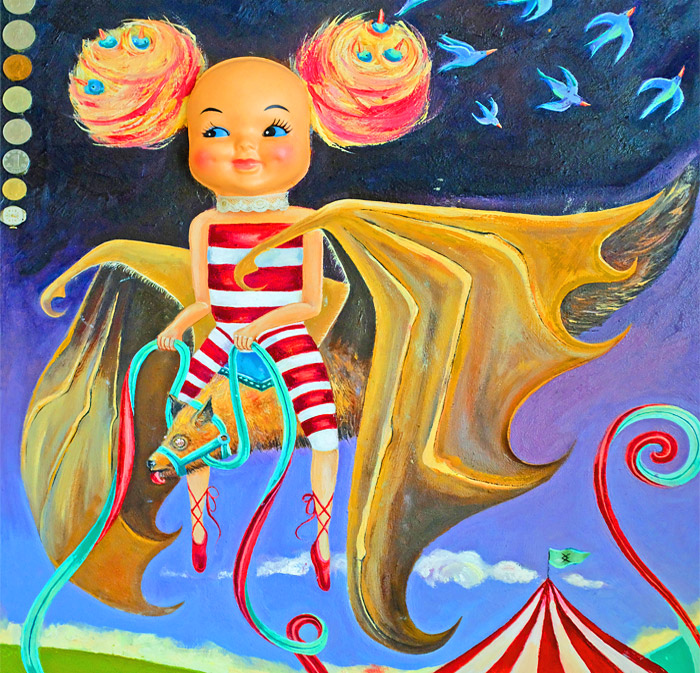 "The Religion Of Circus". Photo: Stella Jae Ricci
EXHIBITION: 29 November - 2 December 2018

Stella Jae Ricci's Artist Residency project
Echoes of Change
is an abstract reflection of the transformation the artist experienced during her fifteen years of travel on every continent.
The artist from the United States spent several years in mainland China, and the past two years she has have been living in Lhasa - the autonomous region of Tibet. The Chinese occupation of Tibet has left deep impressions on her heart and mind.
Modern colonization and acquisition of territories is a reality often overlooked, she writes in her artist statement. "Greed is conquering moral". And she makes a political and - at the same time - spiritual suggestion: "Oneness of humanity is the thread often severed by ideologies and governments which should be strengthened."
Philosophy, occult science, and religious iconography are weaved deeply into Stella Jae Ricci's art.
OPENING:
Thursday, 29 November, 7 - 9 p.m.
EXHIBITION:
Friday, 30 November to Sunday, 2 December from 12 a.m. to 8 p.m.
PLACE:
3quarters, Agiou Dimitriou 19, 10554 Athens (Psyrri)
>>> Find it
Download the
e-invitation (PDF)
Documentation: Christoph Ziegler

Thanks to 3QUARTERS for hosting the exhibition !