ONE ARTIST A WEEK
EVANGELINE BALDWIN //
"IN-BETWEEN"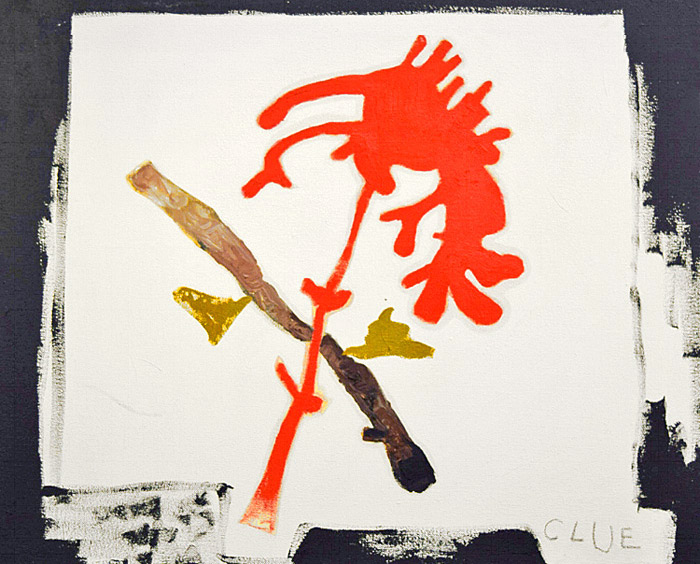 Photo: "Clue" - Evangeline Baldwin
EXHIBITION: 18 - 20 APRIL 2019

Visual artist Evangeline Baldwin (UK) looks at the possibility of communicating the 'in-between' stages of categorization, between human and nature, man-made and nature-made; and the shapes, forms and colors comprised therein.
Baldwin's intention is to treat objects as having their own entity and being, with their own history, individuality, purpose and form. Her point of view is an intriguing step for our imagination and insight, while mankind is increasingly interacting with robotic assistants and machines.
"I look into their abstraction, attempting to disassociate the object from its 'object hood', by repurposing forms and utilizing simple incongruities, altering scale, context, and/or color, resulting in a virtually unrecognizable form. Thus making their purpose and function as the before object unidentifiable. And, therefore, "free", Baldwin says.
In her
One Artist A Week
show "In-between", the artist presents paintings that incorporate objects - seaweed, sand, flowers - which give the compositions a new texture. She uses different materials and intertwine them into her works, creating a space in-between painting and sculpture.
"I use objects viewed as disposable and replaceable and place them onto a respected artwork platform. Every object has importance and artistic value", Baldwin adds.
www.evangelinebaldwin.com
OPENING:
Thursday, 18 April 2019, 19.00 to 21.00
EXHIBITION:
Friday 19 April from 10.00 to 19.00
Saturday 20 April from 10.00 to 14.00
PLACE:
Π-Artworks, Lekka 30, 10562 Athens (Syntagma)
>>> Find it
Download the
e-invitation (PDF)
Documentation: Christoph Ziegler