ONE PLUS ONE
Jen Swearington + Christian Cojulún

"PERPETUAL IN ATHENS // SHADOW HOUSES"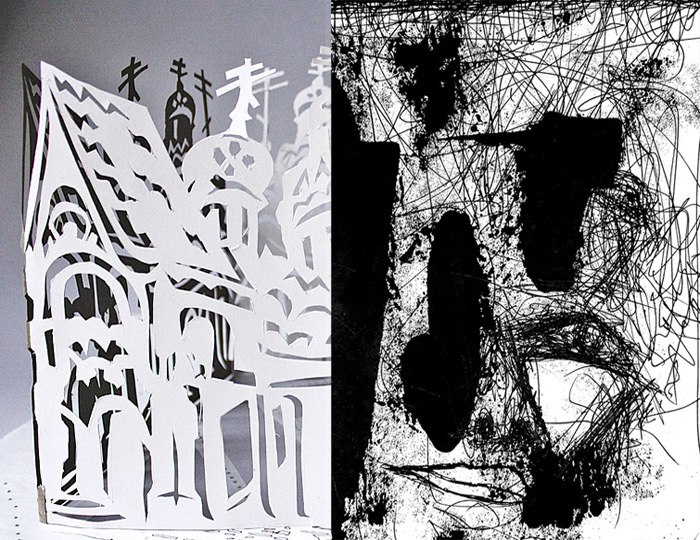 Photo: Jen Swearington / Christian Cojulún
PRESENTATION & PERFORMANCE: 6 APRIL 2019

Jen Swearington's (USA) project "Shadow Houses" is about documenting her personal view of the places she travels to. The artist uses the cutter knife as her artistic tool to create visual narratives inspired by architecture and the urban environment. Cut papers are assembled into three-dimensional architectural models and multi-layered reliefs. Exposed to the the sunlight, the fleeting shadow cast is recorded through the many intricate layers of the sculpture projected onto the base paper.
"Through this process, every passing second changes the shadow simply because our planet is traveling around the sun. But here it is: the building that stands, my time in this country, and a celestial moment that is already, forever gone", Swearington adds.
Christian Cojulún (Guatemala) uses photo, video, poetry, drawing and dance in his work to retrieve the present and the past. His project "Perpetual In Athens" is a cartography of the visible and invisible traces of human civilization in one of the world's oldest cities inhabited for more than 5.000 years.
Cojulún explains: "In Athens, some of the main schools of human thought, art and politics were formed. Today the words of great thinkers such as Socrates, Plato and Sophocles are still valid. Then we can understand that thought is perpetuated through words. Regardless of the language, it is transmitted through forms, graphics, movements, gestures".
Both Swearington's and Cojulún's projects are about living the moment, retrieving the past, capturing the time going by.
Homepage --> Jen Swearington
Homepage --> Christian Cojulun
PRESENTATION & PERFORMANCE:
Saturday 6 April, 17.00 - 19.00
PLACE:
Victoria Square Project, Εlpidos 13, Athens (Victoria)
>>> Show location
Download the
e-invitation (PDF)
Victoria Square Project
is a social sculpture founded 2017 by the artist Rick Lowe in collaboration with Maria Papadimitriou within the framework of Documenta 14 in Athens.
Documentation: Christoph Ziegler