ONE PLUS ONE
DANIEL PASTEINER + RAUHA HARTT

"VIBRATING LINES"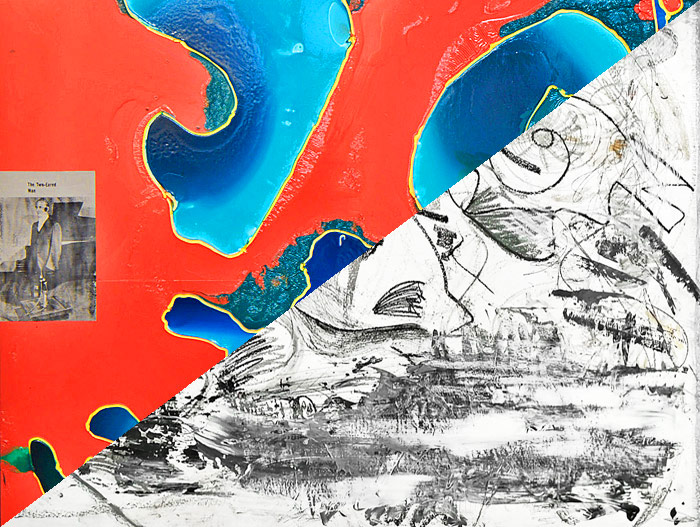 Photo: D. Pasteiner / R. Hartt
EXHIBITION: 28 FEBRUARY - 2 MARCH 2019
WORKSHOP: 1 MARCH 2019

Daniel Pasteiner (London/Berlin) and Rauha Hartt (Finland/London) have developed a "method" together which combines drawing, music and dance movements. With an extensive background in painting and installation, both artists started a collaboration due to their experience of being stuck in a rigid pattern of art production.
Music as a reference for the visual expression has opened up a dynamic way to overcome this constraint. "We have realized that once the body is moved in a dance like way, it liberates the mind from over thinking which is often the cause of stuckness. Also, we have discovered that this way of working together is a lot it of fun!"
For their ONE+ONE exhibition "Vibrating Lines" Daniel Pasteiner and Rauha Hartt will make drawings of ancient figures and symbols shown on the archaeological sites and in the museums, and contrast them with sketches of instant scenes and situations of the urban life in Athens. The drawings will be the starting point for a performative collage, a process that is supported by music and rhythms. The composition of shapes, colors and light will permanently change during the exhibition process.
The workshop "Dance'nDraw" wich Pasteiner and Hartt will give at
Victoria Square Project
, offers the opportunity to participate in the energetic drawing process.
www.danielpasteiner.com
www.rauhahartt.com
OPENING:
  Thursday, 28 February 2019, 18.00 - 20.00 p.m.
EXHIBITION:
  1 + 2 March 2019
OPENING HOURS:
Fri. 11.00 - 19.00 + Sa. 10.00 - 14.00
PLACE:
Π-Artworks, Lekka 30, 10562 Athens (Syntagma)
>>> Show location
WORKSHOP:
Friday, 1 March 2019, 15.00 - 17.00
PLACE:
Victoria Square Project, Εlpidos 13, Athens (Victoria)
>>> Show location
>>> Download the e-invitation (PDF)
Documentation: Loukia Richards