ONE PLUS ONE
Yu Zhang + 3QUARTERS

"TWO FULL MOON"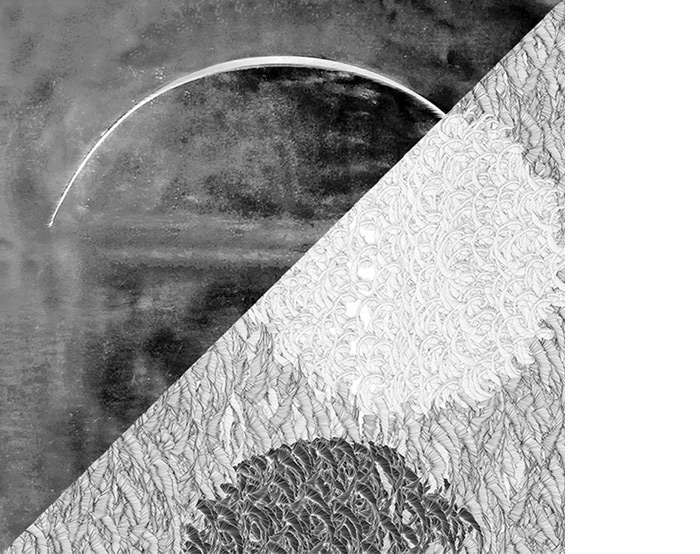 Photo: Yu Zhang / 3Quarters
EXHIBITION: 19-22 February 2019
ARTIST TALK: 22 February 2019

Yu Zhang (Netherlands) explores new formats of art production and consumption combining traditional and digital media to create "mixed reality" environments.
With her cultural roots in the Asian tradition drawing and symbolism, Zhang's interactive installations reflect on the use of art and technology in the Space Age. They include electronics, sensor- and computer-based material as well as traditional drawing, painting or printing techniques.
For the 1+1 residency in Athens, Yu Zhang plans to extend her ongoing installation project "TWO FULL MOON" which plays with historical cultural roots of the connection between human desire and the moon. The interactive and web-based project is a result of the artist's research and experimentation with collecting, repurposing and grounding data streams from the World Wide Web.
For Yu Zhang, "TWO FULL MOON" expresses the human desire to bond with nature without techie's lens obscuring our being and feeling in the world. The artist will collect electronic objects and devices in Athens and combine them to an installation which produces interactive print works.
3QUARTERS is an Athens' design brand founded in 2015 by John and Gary Pitsakis. Committed to the principles of sustainable design, brother and sister work intentionally on small-scale designers production, trying to raise awareness on slow, ethical, socially and environmentally conscious fashion.
The 1+1 collaboration between Yu Zhang and 3QUARTERS will take place in a public talk about digital art, contemporary design and urbanism. The designer duo John and Gary Pitsakis will host Yu Zhang's interactive installation in their showroom.
>>> Yu Zhang - TWO FULL MOON
>>> 3QUARTERS
EXHIBITION OPENING:
Tuesday, 19 February, 6 - 8 p.m.
EXHIBITION:
Wed. 20 - Fri. 22 February, 12 - 8 p.m.
ARTIST TALK:
Friday 22 February, 4 -6 p.m.
PLACE:
3QUARTERS, Agiou Dimitriou 19, 10554 Athens (Psyrri)
>>> Show location
Download the e-invitation (PDF)
Thanks to
3QUARTERS
for hosting the exhibition !
Documentation: Christoph Ziegler