ONE ARTIST A WEEK
TAWEESAK MOLSAWAT //
"BODY POLITIC"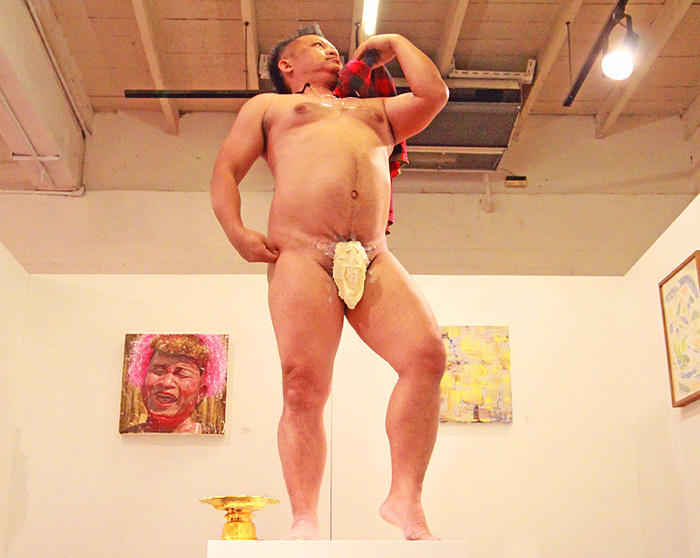 "Body Politic". Photo: Nanchanok Monsak.
PERFORMANCES: 4 / 6 / 8 DECEMBER 2018

During his ONE ARTIST A WEEK residency in Athens, Taweesak Molsawat (Thailand) will explore different concepts of performance connected to the notion of beauty, culture and politics.
With the series "BODY POLITIC", the artist and former teacher, professor and designer focusses on the human body as a vital medium of art, reflecting on issues of social, economical and political importance: prejudice, identity, race, culture, economy.
Taweesak Molsawat will present three individual performances which will challenge the audience to question the role of art and the artist in the context of everyday politics that create social hierarchies. Molsawat encourages visitors to interact with his public performances and participate in the process of creating art through a non-verbal dialogue.
Website:
ATTA gallery / Taweesak Molsawat
PERFORMANCES:
I. Tuesday 4 December, 12 p.m. - 3 p.m.
"Dis/placed Cultural Constructed Hierarchy (Life is Beautiful)": A Walk from Voukourestiou Street / Platia Kolonakiou / Ermou Street - Athens
II. Thursday 6 December, 12 p.m. - 8 p.m.
"Imaginative Meal (Life is Beautiful)": Performance at Platia Agias Irinis - Athens
III. Saturday 8 December, 12 p.m. - 8 p.m.
"Life is Beautiful, (isn't it?)": Performance at 3QUARTERS, Agiou Dimitriou 19, Athens/Psyrri
Download the
e-invitation (PDF)
Documentation: Christoph Ziegler