ONE ARTIST A WEEK
SOPHIE RODIN / AT HOME IN THE WORLD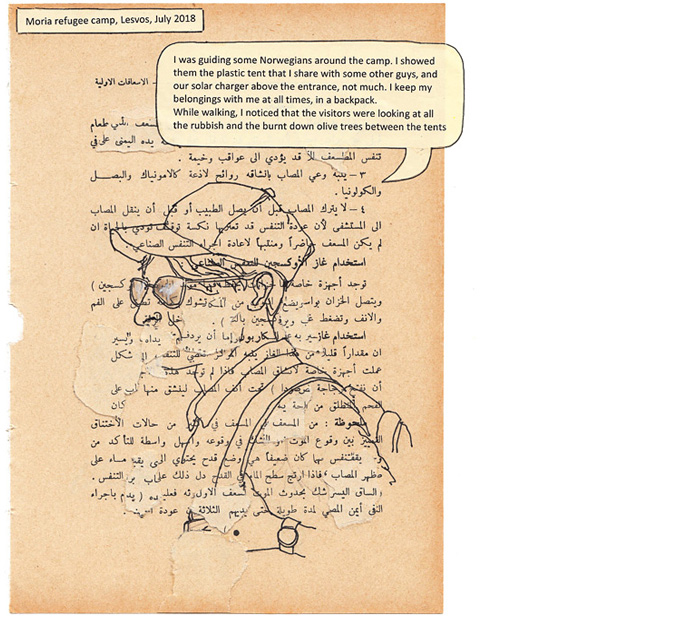 Photo: "At Home In The World I" - Sophie Rodin
EXHIBITION: 20 - 24 February 2019
WORKSHOP: 23 + 24 February 2019

Sophie Rodin's art practice focuses on drawing and art books. She combines visual art with activism, as her art projects usually address refugees and migrants.
Rodin presents three art books at Victoria Square Project: text, collage, sketches and drawings she designed after various meetings with migrants and refugees over the last years. The books are part of a project in progress titled "At Home In The World".
The same name Athens show aims at broadening the Norwegian artist's experiences while encountering old and new Athenians. "In Athens I hope to keep up the conversation, with both locals and migrants, to enrich the project with new approaches, views and experiences", Rodin says.
A fee free weekend workshop gives Athenians the chance to get a closer look at the work of both artist and educator Rodin.
>>> Sophie Rodin - At Home In The World
>>> Victoria Square Project
OPENING:
Wednesday, 20 February, 6 to 9 p.m.
EXHIBITION:
Thu 21 - Su 24 February 2019, 12 to 6 p.m.
WORKSHOP:
Fee free art book workshop at
Victoria Square Project
:
Sat 23, 4 - 7 p.m. + Su 24 February, 11.30 a.m. - 1.30 p.m.
PLACE:
Victoria Square Project, Εlpidos 13, Athens (Victoria)
>>> Show location
Download the e-invitation (PDF)
Documentation: Christoph Ziegler / Loukia Richards