ONE ARTIST A WEEK
SARAH ATTWOOD //
"TO KNOW A CITY"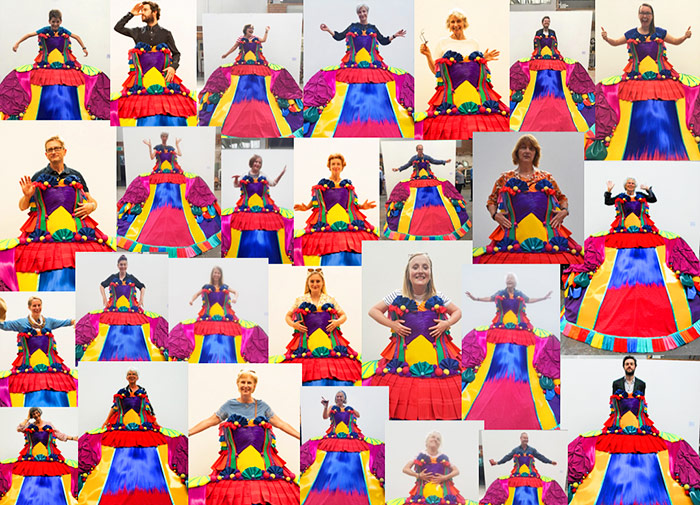 (Photo/collage: Sarah Attwood)
EXHIBITION: 6 - 11 DECEMBER 2019

Google Greece and you'll get a series of cliques: aquamarine waters, olive groves, beaches, people in Grecian robes.
In her participatory sculpture project "To Know A City", Sarah Attwood (UK) explores how, as an outsider, we get to know a destination and its people.
The laurel wreath, a stereotypical Greek symbol and popular item of fancy dress in the UK, is the starting point. This object will be re-claimed and explored as a modern Greek object.
Attwood aims to create a personal dialogue with local residents by exhibiting a series of wreath sculptures inspired by her initial impressions made during her one-week residency in the city. For each wreath she will seek for a
wearer
- an Athenian owner to model it and be photographed.
"When we travel, we're armed with preconceptions from our own country. And as we explore, we often miss out the very people that shape the place we're in, and instead focus on ticking off bucket list sites. In creating these wearable wreaths, I want to invite Athenians to interact with my objects, and try them on if they choose, as a way of getting to know the city" (Attwood).
Sarah Attwood will present the resulting portrait and wreath in her show "To Know A City". Visitors can retrace the personal encounters through the exhibited photos and objects in the window display of P-Artworks.
Website:
www.sarahattwoodart.com
OPENING:
Friday, 6 December, 2 - 7 p.m.
SHOW:
Sat, 7 December + Mon, 9 - Wed, 11 December 2019
OPENING HOURS:
10 a.m. - 7 p.m.
PLACE:
Π-Artworks, Lekka 30, 10562 Athens (Syntagma)
>>> Find it
Download the
e-invitation (PDF)
Documentation: Christoph Ziegler