ONE ARTIST A WEEK
KATHRIN STALDER //
LEAVE A MARK IN GREECE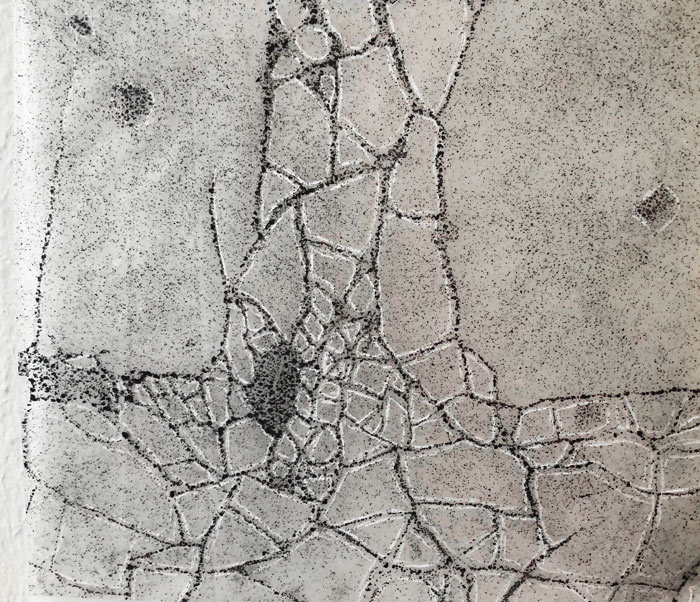 "Fracture". Photo: Kathrin Stalder.
EXHIBITION: 14 - 16 SEPTEMBER 2018

"We all leave our traces in this world, and I hope to leave good ones" - Kathrin Stalder from Switzerland is a creative nomad working in Europe, Africa and Taiwan and in other parts of the world. Sharing and interacting as an intimate communication process are at the heart of Stalder's work.
"See you on a street, inside a house, at a beach, or on the hill. If we look carefully, the world is a big collage, let's hope to see sparks from those are forgotten, and those in the dark."
Kathrin Stalder will continue her ongoing project - searching and leaving traces - during the residency in Athens and Leonidio.
EXHIBITION CANCELLED!
Due to an accident Kathrin Stalder had immediately before her scheduled travel to Athens, we have to announce the cancellation of her show.
Luckily the artist has documented her works - prints, collages, frontages, books and jewelry objects made out of found material she has collected on her recent excursions through Switzerland - ahead of boxing it, so you can see some of them below (and the artist herself in the hospital)!
Kathrin Stalder - Blog
Documentation photos: Kathrin Stalder