ONE ARTIST A WEEK
CARMELA LORUSSO / FAYUM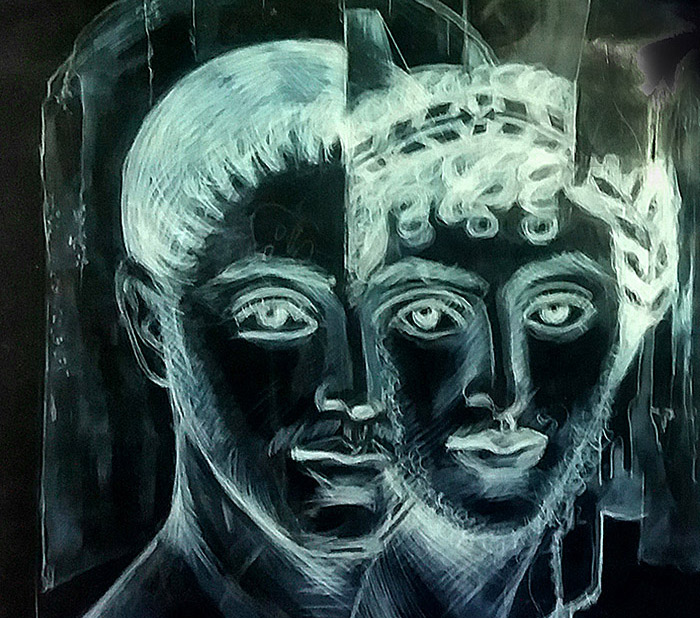 Photo: "Fayum No.1" - Carmela Lorusso
EXHIBITION: 6 - 9 February 2019

In her solo show "Fayum", Italian artist Carmela Lorusso updates encaustic - an ancient painting technique that preceded the use of oil colors - to reflect contemporary technology and aesthetics. The conjunction between the past and the present is of vital interest in Lorusso's own work and art heritage.
In her own words: "My iconographic research draws from the Roman Greek sculptural and pictorial archaeological repertoire to Renaissance art. In the past, artists often had second thoughts as they were working; and today we wonder why this happened when such a painting is analyzed through x-rays (...) You can see the intersections of unconnected faces, bodies, objects belonging to the same painting".
Lorusso's deliberately creates this duality. She believes that often the personality of the artist opposes the goals he sets while working, changes and sometimes even abolishes them.
The town of
Fayum
in Egypt where hundreds of Hellenistic and Roman mummy portraits have been discovered gave its name to the art style characterized by graceful realism. During her One Artist A Week residency, Carmela Lorusso aims at exploring ancient Greek art and its contemporary impact on culture and society.
Blog:
Carmela Lorusso
OPENING:
Wednesday 6 February, 7 - 9 p.m.
EXHIBITION:
Thu. 7 to Sat. 9 February, 12 - 8 p.m.
PLACE:
3QUARTERS, Agiou Dimitriou 19, 10554 Athens (Psyri)
>>> Show location
Download the
e-invitation (PDF)
Documentation: Christoph Ziegler


Thanks to 3QUARTERS for hosting the exhibition !