ONE ARTIST A WEEK
CARLOTTA SENNATO //
SUBVERSIVE GAMES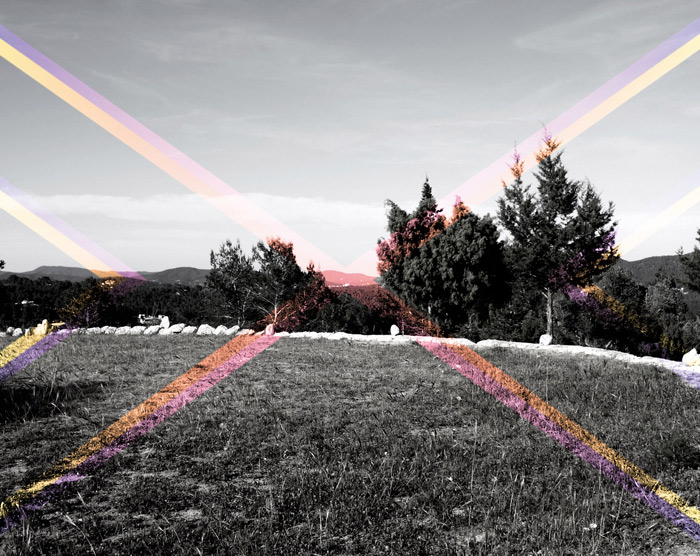 "Landscape" - Photo montage by C. Sennato.
EXHIBITION: 7 - 11 JUNE 2018

Carlotta Sennato's art installation "Subversive Games" in Panourgias stamp shop in down town Athens challenges visitors to reflect whether they are aware of their power to transform and the possibility of changing things.
The question Sennato asks is crucial given the political and social subversions Europe experiences in recent years. However, Sennato's work goes deeper: it questions our ability to re-focus our own vision and enable new creative possibilities to emerge.
In Sennato's own words: "... Being subversive indicates a new way of looking at things and transfiguring them, playing with ideas, new concepts and free associations of meanings. In the same way during the residency, an old print shop gets subverted to become an exhibition space. The reference is to the subversion of vision. Objects, images that are part of the already existing reality, are transformed into something different from their original conception".
Sennato's art installation reuses elements reflecting the character and function of the shop while respecting its history and meaning. Aknowledging, keeping, shifting, innovating - this is an important conceptual and aesthetically intervention in a city rapidly gentrified. Agora/Forum - a place of monetary transaction, social information, political dialogue - as practiced for thousand of years in Greece is swept away. Sennato herself becomes part of the installation, inviting visitors to stop by for a chat, thus re-triggering the "agora" principle.
(Photos: Carlotta Sennato, Text: Carlotta Sennato/Loukia Richards)
Opening on Thursday 7 June, 7-9 p.m.
at Π-Artworks, Lekka 30, Athens (Syntagma).
Further information - see the
e-invitation (PDF)
Photos: Christoph Ziegler