ONE ARTIST A WEEK
ANTHONY WARNICK //
WHAT MAKES DEMOCRACY?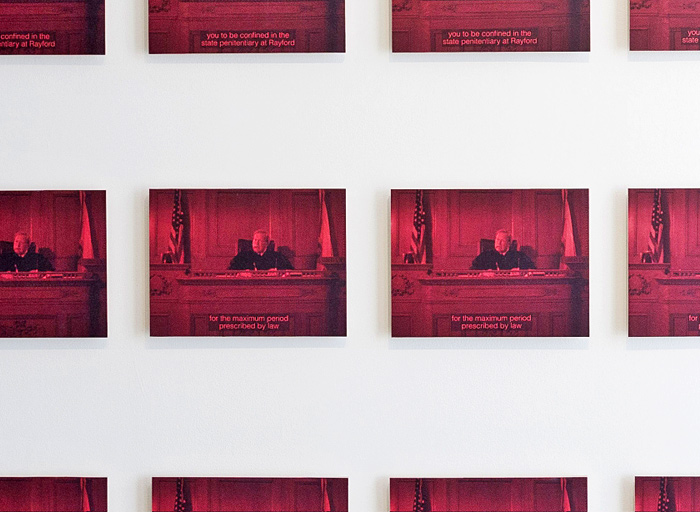 Photo: "Gideon's Trumpet", Anthony Warnick
EXHIBITION: 5 - 7 JUNE 2019

Anthony Warnick's (USA) conceptual works investigate the imagery and language of politics. His ongoing conceptual project
What Makes Democracy?
consisting of prints, readymades and performances, is a research-based "socratic interrogation" focusing on the power structures of state and society.
In his "One Artist A Week" exhibition, Warnick presents three sets of diptychs. Each one applies to a different mode of physicalizing the past and present, material and immaterial, icon and image.
Where does power lie? The first diptych consists of old and new postcards. By using a custom made stamp, the artist alters the original function of the postcards: to represent historic and contemporary seats of power.
The second diptych depicts the ground of - ancient and present - institutions that are essential for democracy. Rubbings of surfaces are transferred to images that invite the viewer to question his own participation in the construction of the state.
Icons made of abstract geometric gold shapes affixed to cardboard make up the third diptych. The material used in this work refers to the homeless people in Athens. The struggle within art over the power of images juxtaposes the central question of any political institution: "How do we care for the ones excluded from society?"
Homepage - Anthony Warnick
OPENING:
Wednesday, 5 June 2019, 18.00 - 20.00
EXHIBITION:
Thursday 6 June, 11.00 - 19.00
Friday 7 June, 11.00 - 19.00
PLACE:
Π-Artworks, Lekka 30, 10562 Athens (Syntagma)
>>> Find it
Download the
e-invitation (PDF)
Documentation photos and video interview: Christoph Ziegler