ONE ARTIST A WEEK
ANNA SNEGINA //
"ABSTRACT ATHENS"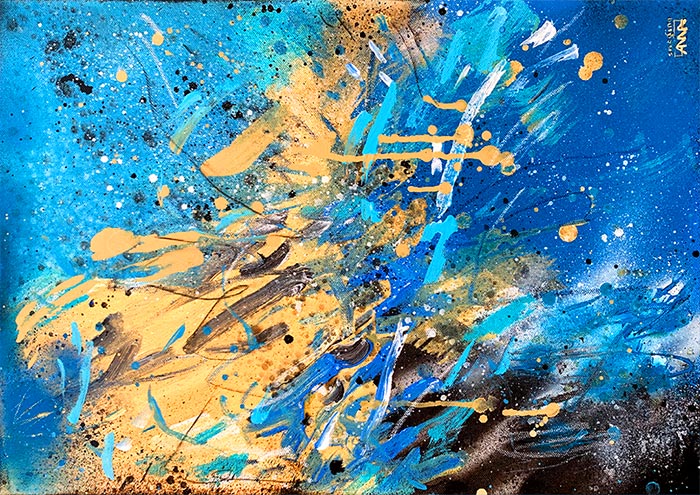 "Twilight In Athens", 2020 - Photo: A. Snegina
EXHIBITION: 21 - 24 February 2020

Anna Snegina's place of origin (Ekaterinenburg, Russia) had an important impact on her work and painting style combining techniques and disciplines - which are traditionally used separately.
"I was born and grew up in the Urals region in Russia, a place where urban life of an industrial city meets beautiful nature, where Europe meets Asia, provinciality meets great ambitions and turns into originality and separate identity", Snegina says.
"Abstract Athens"
is a project at the intersection of painting and scultpure, a work in progress which started long before Snegina came to Athens for her One Artist A Week residency: "If you ask me what image comes to my mind when I think of Athens, I'll remember the cover of a world history students book that I used to have at 5th grade at school. There was a picture of the Parthenon on the cover, and this image has been imprinted in my mind since childhood", she adds.
Updating abstract expressionism, Snegina presents artworks inspired by the combination of colors that reflect the city of Athens: abstract paintings created with acrylic paints in blue, white, beige, as well as abstract photo compositions that she came across while exploring the city.
Homepage:
www.annasnegina.com
OPENING:
Friday 21 February, 1 - 6 p.m.
EXHIBITION:
Sat 22 + Sun 23 February, window display
Mon 24 February, 11 a.m. - 6 p.m.
PLACE:
Π-Artworks, Lekka 30, 10562 Athens (Syntagma)
>>> Find it
Download the
e-invitation (PDF)
Documentation: Christoph Ziegler